Video and images can be added to your posts and pages in a number of ways. Most of the resources that you add to a post or page will need to be uploaded to your WordPress media folder.
Add images to a page/post
Inserting an image file is really easy, just browse to the post (or page) that you want to include an image, open it, put your cursor where you'd like to add the file, and choose the "add media" button.
Insert media
This opens the "Insert Media" frame. From here you can upload a new file to your media library or choose something that you already have on hand.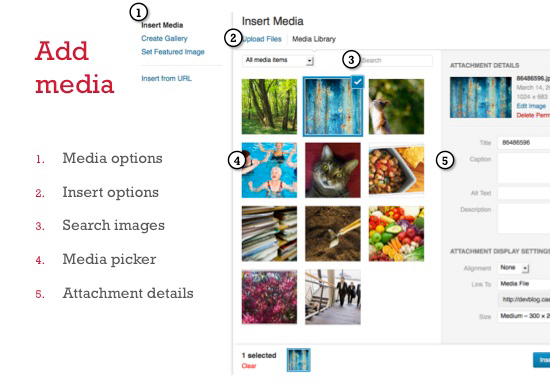 The Insert Media frame has:
Media options: choose what kind of item you want to add; a single image or file, a gallery, a featured image, or a file from a different website (insert from URL).
Insert options: you can upload files or browse your media library for existing files.
Search: if you have a lot of files in your media library, you may need to use the search to narrow down what you see. This searches on the file's name and other written details, so be sure to update any generic information you may have written on any media (for instance, it will be a lot easier to find an image titled "cat.jpg" than "86456872b.jpg").
Media picker: the media picker shows you thumbnails of all the images and other files online in your media library.
Attachment details: when you select a file, this panel shows you details about the file. You can edit a few things here like title, caption, alt text, and description. You can also adjust the settings for how you want it included on your page (alignment, link to, size).
You will mostly be using Insert Media to add single images. In order to do this, select the image that you'd like to use from your media picker window. We recommend these settings for your attachment details:
Alignment – right
Link to – "none" or "link to image"
Image gallery
If you'd like to learn more about creating an image gallery, see OIT's post, WordPress Feature Gallery.
What else can you insert?
You can also use the insert media option to upload or link to files like word documents or PDF files. You can also insert media from other websites, like Photobucket, Flickr and Picasa. See WordPress's documentation on including images from other websites.
Do not use this to upload videos. See Embedding videos for more information on adding video files.
Reviewing existing media
Media library
The Media Library lists all media that you've uploaded to your WordPress site. This will typically be image files but can also include PDFs and other sorts of documents. This shows thumbnail, file name and type, author, associated posts (uploaded to), comments and date published.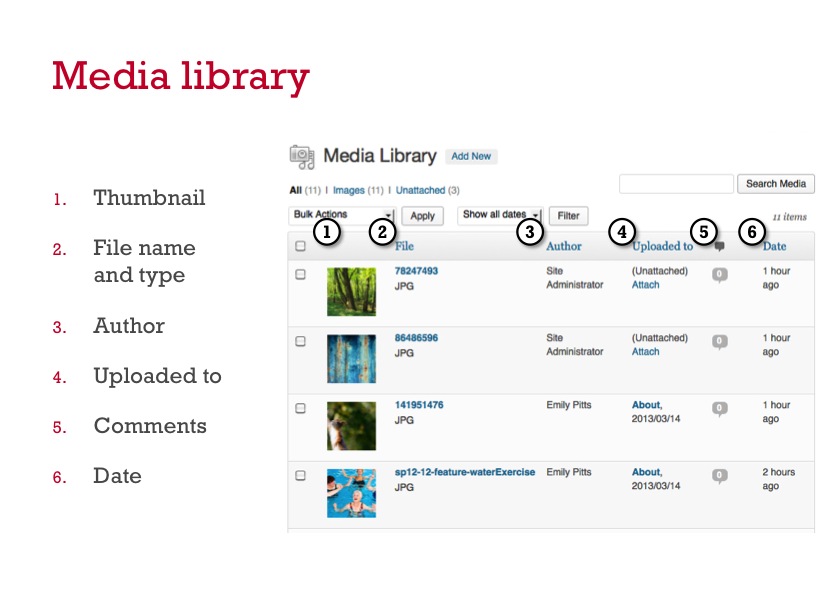 Edit media
If you want to edit any information about a file or make edits to an image, find the file in your media library and click on the title. This will open up a page to edit basic information about the file.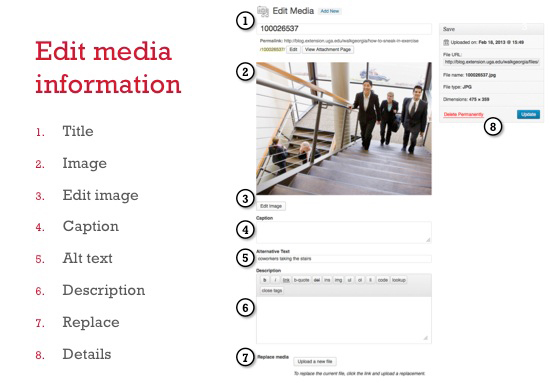 Depending on your media type, you may see these options to edit:
Title: the title of your file, edit this to be unique and succinct, yet descriptive enough for you to pick it out of a list of files.
Image: for image files only; this is a preview of your image
Edit image: for image files only; this links to a tool to Edit Images
Caption
Alternative text: for image files only; alt text is mandatory for all images that you upload. This should be a short description of your image that can replace the image in the event that a visitor cannot see or access the image.
Description
Replace media: use this option to replace the original file. This is a great way to add updates to an image or document without having to relink it in your posts and pages.
Details: the upload date, URL, name, and file type for the selected file
Edit an image
In order to edit an image, browse to the image you'd like to edit in your Media Library, select on it, and then choose "Edit Image" under the image preview. WordPress provides some very basic tools to edit your image; these include rotate, flip, scale, crop, and thumbnail settings.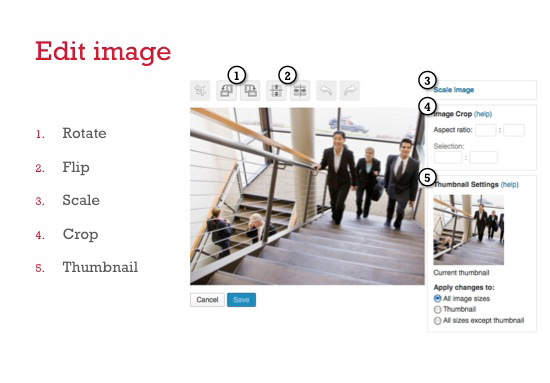 Most of these are pretty easy to do, but cropping might take a little experimentation for you to get it right. If you want to crop an image, click your mouse onto the image and, while keeping the mouse pressed, drag your cursor in any direction to highlight the area you want to keep. Release your mouse and then click on the crop button above the image.
A word of warning to you though – when you edit an image, it overwrites your existing image, so keep you originals handy! If you don't like what you've done, you can click "cancel" and your changes will not be saved.
Embedding videos
WordPress makes it easy to embed videos into posts and pages.
Browse to the video that you want to share on YouTube or Vimeo.
Copy the video's link from your browser's address bar.
Paste the video into your post or page content.
WordPress will embed the video for you.
Need to publish a video?
You might have a video that you've produced and it isn't online yet. OCCS manages YouTube accounts for both CAES and UGA Extension. Contact OCCS for more information.