I hear it all the time from clients, "I get so many emails that I can't manage my Inbox." I'm going to share with you just one of the many different methods of managing incoming emails by color coding emails by your most important senders.
Wouldn't it be nice if all the emails from your Manager/Boss were in a different color and font size than all the other emails you get? Or maybe you're working on a project with a group of people, and you want all their emails when received to be a specific color and font. This feature can help you quickly find emails from specific people by just looking for a color versus having to actually read the text to determine who sent the email.

To begin, click on the "View" tab in Outlook 2010, then click the "View Settings" button on the ribbon.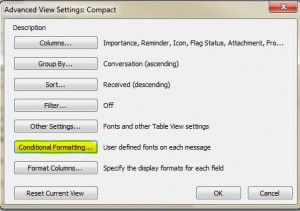 Once the View Settings box appears, click the "Conditional Formatting…" button.
At the "Conditional Formatting" box, click on "Add" to create a new rule with specific conditions. Name the rule by typing in the name field. For this example you might want to name it for the person that you will be selecting as the sender.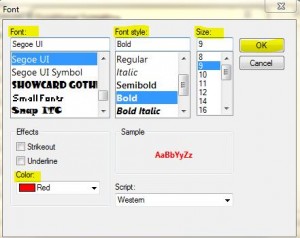 From the Conditional Formatting box select the "Font…" button to select the font, font style, size, and color. Once you've selected your choices from the "Font" box, click "OK" to return to the Conditional Formatting box.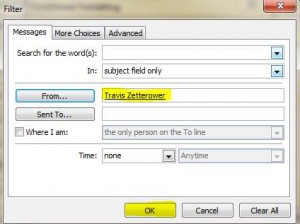 Now select the "Condition…" button to choose the sender. The 'Condition' is going to be the sender of the emails, so if you know the email address, you can type it directly in the "From…" field. If you do not know the email address, you can click the "From…" button and search the directory for the person you are looking for. Click "OK" to return to Conditional Formatting box.
You should now see the name of the condition, and the font choices you made, so click "OK" to have the rule added to your conditional formatting rules.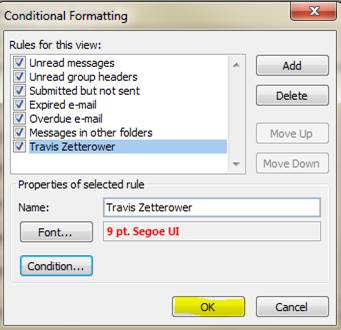 My rules states that any emails I receive from Travis Zetterower will be Red and 9 pt, like this image. As you can see, having color coded emails from specific senders can allow you to easy identify emails, and hopefully help make managing your Inbox a little easier.