Let's start with basic. This is a visual tour of the UGA CAES and Extension site theme for WordPress. It also explains some basic concepts, like how posts and pages behave. This refers to the published version of your WordPress site, not the parts you might see when you are editing your WordPress site (that's a different section!)
A theme has…
This is the general structure for every page on your WordPress site.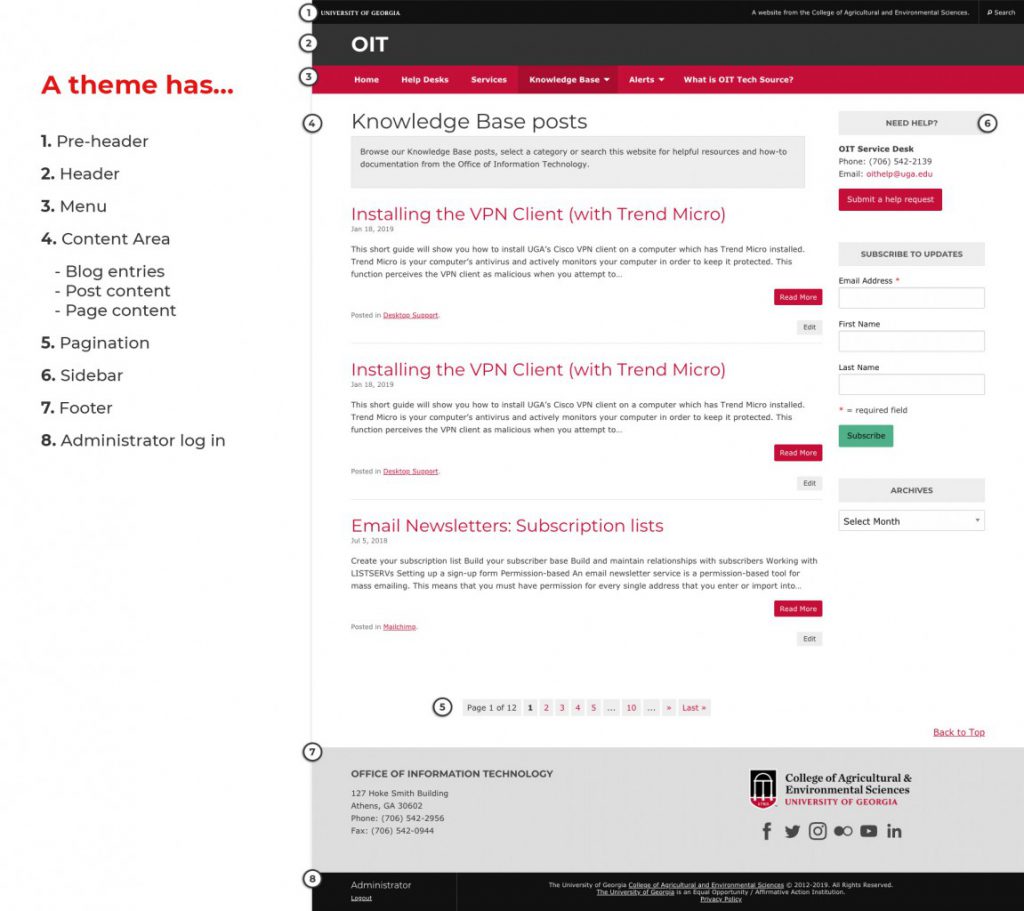 Pre-header: identifies with UGA College of Agricultural & Environmental Sciences, or UGA Cooperative Extension
Header: Site title
Menu: links to major pages and sections in your WordPress site
Content area, depending on the page:

Site entries: abbreviated post with title, date, excerpt, featured image, link to entire post
Post content: an entire post
Page content: whatever content you have for your page

Pagination: move between pages of site entries
Sidebar: content that you can manage with different widgets
Footer: bottom of page, includes "meta" widget with login info, Cooperative Extension logo and link; has two widget areas
Administrator log in: editors log in and out of the WordPress dashboard
Posts have…
When you visit a post page, you get the entire article plus these items:
All posts have these things.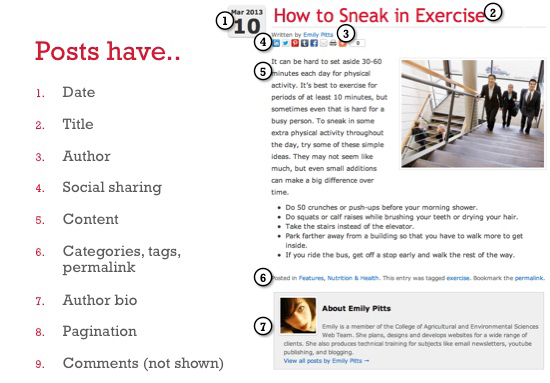 Date
Title
Author: this lists the post author's name and links to all of their other posts; the author can be hidden in Theme Options.
Social sharing: click on these buttons to share a link to the post on LinkedIn, Twitter, Pinterest, Tumblr, Facebook and more
Content: text, images, videos, links; whatever you have written to share
Categories, tags, permalink: click on these to see posts with similar categories/tags; choose the permalink if you want to edit the link to the post
Author bio: this pulls the author's bio and photo from their profile; this Is also hidden if you hide the author in Theme Options.
Pagination: move between site entries; this usually just lists the previous and next post in the series.
Comments* (not shown): user commentary and feedback on this post
*These items can be turned off in your settings
Posts go to…
Posts, in their abbreviated form, show up in a number of places on your WordPress site. In all instances, they will show up in reverse chronological order with a title, summary, publish date, categories and tags, and link to read more.
You can write a custom summary as a Post Excerpt (see Publishing posts and pages). You can add an image to the abbreviated post with a Featured Image (see Working with images and videos).
The places these abbreviated entries appear are:
"Archive" pages – displays of posts that relate to each other by

Author
Category
Tag
Month published

Search results
RSS Feeds*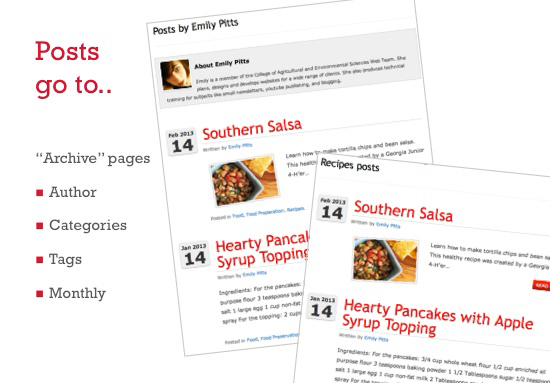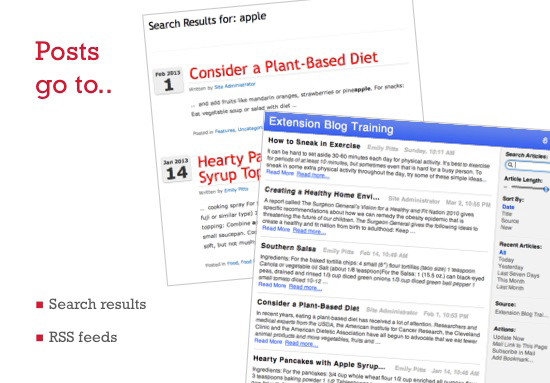 *Without getting too deep into it, RSS feeds are used by other programs to pick up the activity on your WordPress site. If someone has an RSS reader, they can subscribe to your WordPress site and get updates when you post something new.
Pages have…
Pages are static content on your WordPress site. This could be something like an About page or a page that lists your authors. A page has the following parts: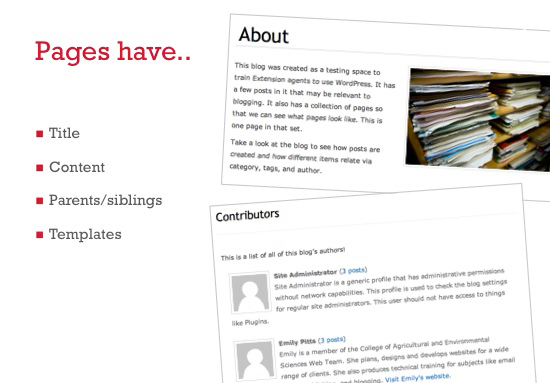 Title
Content
Family: parents/children/siblings
Templates: typically defaults to a single template, theme has additional template to show all the contributors for your WordPress site
What about family? Check this out, if you have an about page, and underneath it you have a contact us and an authors page, your site diagram would look like this:
So, the About page is the parent of Contact Us and Authors. That means Contact Us and Authors are children of About. Since Contact Us and Authors are side by side, those pages are siblings to each other. Make sense?