Want to upload a profile picture so that it shows up on your county's contact us page?
Step 1: Take a picture
Take a picture of yourself. It's okay to use a phone or digital camera.
Photos should be professional-looking headshots, not action shots or candid pictures.
Your picture should have a "portrait" aspect ratio, not "landscape." (Tall and narrow, not wide and short.) We recommend that the photo not exceed 600 pixels in width.
If taken with a phone, pictures must be resized before uploading. There is a 500 KB file upload limit. If you need a free photo editor, try https://www.canva.com/photo-editor/.
All images must have a .jpg file extension.
If you have trouble with these steps email and we'll be glad to help.
Step 2: Find your profile page
Here's what you'll see for each step.
Step 2A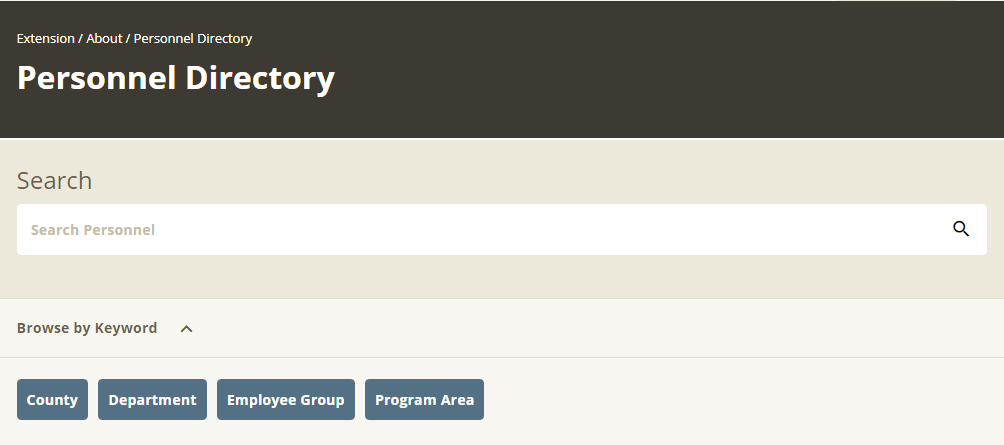 Step 2B

Step 2C

Step 2D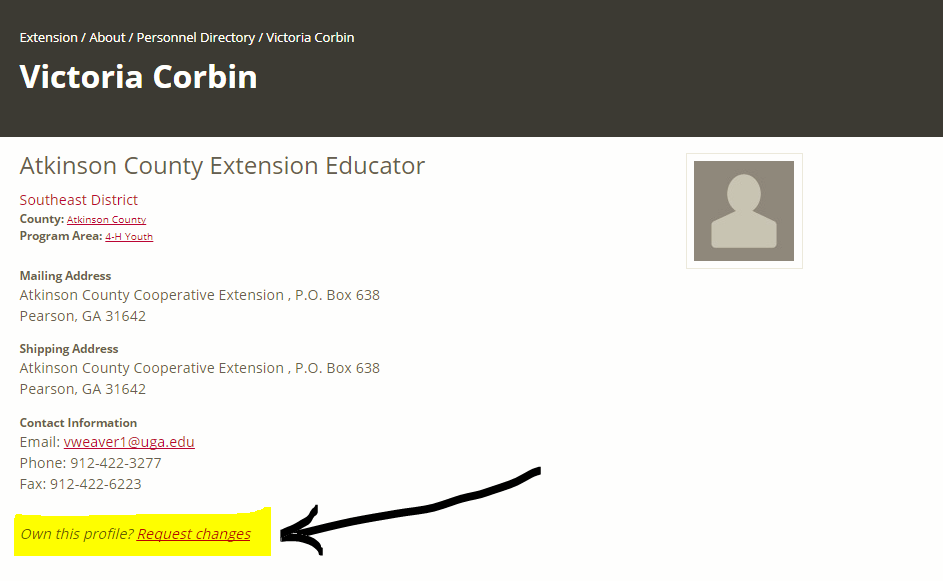 Step 3: Log in and upload your picture
You should see a log in screen.
Use your UGA MyID username and password to log in.
Once you've logged in, you'll be taken to a screen that lets you update your "personnel profile."
In the middle of the page, you'll see an option to upload a photo.
Once you've uploaded a picture, scroll to the bottom of the page and click "Submit Requests."
You'll receive a confirmation email once your district office will review and approve your photo shortly.
Here's what you'll see.


Troubleshooting
Can't find your profile page? It can take some time for new employees to show up in the personnel directory. If you're using the "Search" bar, keep in mind that it takes a few days or weeks for new employees to show up in search results. If you're using the "Browse" option as shown above, your district office may not have added you yet. Check with your district office and ask if you've been added to the Personnel Database.
Trying to upload a picture for someone else? Each individual must upload their own profile picture.
Having trouble with your MyID? Make sure to use your personal MyID username, not your county's "UGE" account. Your MyID is the same username and password that you would use to log into other centralized UGA services like the page you visit to get your paystub, W-2, etc. There's no need to enter the "@uga.edu." If you continue having trouble, you can reset your password using the MyID Tools and Information page or contact UGA EITS at 706-542-3106.
Getting an "Authentication Failure" message? If after logging in you see a message that says "Authentication Failure: The MyID has not yet been added to the list of approved CAES users," then email your username to . You should hear back fairly shortly that you've been added.

Is your picture okay? Your photo should have an aspect ratio of 2×3 and should not exceed 600 pixels in width. If your photo came straight from a camera or phone, it needs to be resized first! There is a 500 KB file upload limit. All images must have a .jpg file extension.