A web content analysis starts with an inventory list of all the content existing on your site. A web content analysis (or audit) uses that quantitative inventory list to assess the quality of your web content. For small websites this seems like a reasonable task, but for larger sites, it can be quite overwhelming.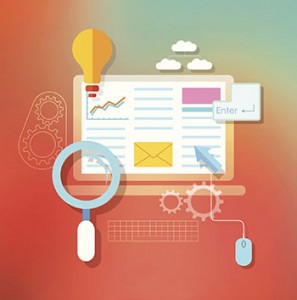 Why analyze web content?
A thorough content analysis provides essential information for a website redesign, a site migration into a new platform or a merger of multiple websites into one. It informs and guides decisions for a website's structure and navigation that will direct your site visitors clearly to their desired goal and inspire them to return.
How do I get started?
A spreadsheet is a great way to list your inventory. We use Microsoft Excel or Google Sheets so the information can be more easily sorted and edited. The columns are customizable so you can collect the information you need.
Information to include in your inventory:
Link
Page title
Description
Keywords / topics
Author or content owner
File format (pdf, doc, audio, video, image, etc.)
Dates (page creation, last update, etc.)

How do I turn the inventory list into something more useful?
With your quantitative list in hand, it's time to go through each item and do a quality assessment. This process can be tedious, but you must become familiar with your web content to judge its effectiveness, understand how it relates to other content, make decisions about how it should be used or formatted, identify opportunities to improve it, and more. This task is generally best performed by the subject matter expert(s) for the website.
The first step is to weed out the ROT (Redundant, Outdated or Trivial content). By getting rid of the obviously bad content, you can focus on the content you will keep, update and create. Make careful notes as you go through your inventory list and add columns to your spreadsheet as needed.
Some additional columns may include:
Action (keep or delete)
Content type
Primary Audience
Notes
Content qualities to track during your analysis:
Usefulness and relevance
Clarity and accuracy
Engagement, influence and impact
Completeness
Findability (SEO)
Accessibility (508 compliance)
Branding consistency
What's the payoff?
While web content analysis is a lot of hard work, it ensures that your content will be updated, organized and relevant. Maintaining high quality content protects the credibility of your brand and results in establishing, expanding and retaining a dedicated audience. That is the payoff.