The WordPress editor may remind you of other applications like Microsoft Word. Adding text content is as straight forward as typing into the page. However, there are several time saving options throughout the editor that you might overlook.
This article covers our top tips for helping you work more efficiently with WordPress' post and page editor:
For more detailed information and screenshots, visit the official WordPress Editor page.
---
More Tools & Options: View
When working with blocks in the editor, you'll notice that a toolbar appears the block you are actively editing.
You can change the placement of the toolbar so that it is always at the top of the editing screen. To do this:
Click the "More tools & options" icon, which looks like three dots, in the top right hand corner
Under View, select Top toolbar.
Now your toolbar will stick to the top of the screen as you edit blocks. See screenshots below to compare.
I think it's best to disable "Top toolbar". Having the toolbar appear above the block you're working on is a good way to keep track of where you're making changes in the content. However it may be your preference to keep the toolbar at the top. Use the option that makes editing easier for you!
Copy Entire Post or Page
You can copy all of a page or post's content to another. Here are the steps:
Click on the "More tools & options" menu (three dots) in the top right hand corner.
In the menu, find "Copy all content".
While editing another page or post, you can paste by using Ctrl + V (Windows) or Command + V (Mac).
Keyboard Shortcuts
Did you know you can use keyboard shortcuts in the WordPress editor? Here's a list of shortcuts for Windows (for Mac, use "Command" instead of "Ctrl"):
Ctrl + c = Copy
Ctrl + v = Paste
Ctrl + b = Bold
Ctrl + i = Italic
Ctrl + x = Cut
Ctrl + a = Select All
Ctrl + z = Undo
Ctrl + s = Save your changes
Ctrl + p = Print
Ctrl + u = Underline the selected text
Ctrl + k = Convert the selected text into a link
These shortcuts are pretty much standard with other desktop apps like Microsoft Word. However if you use WordPress a lot, it may be worth learning specific shortcuts for the editor. You'll find these in menus throughout the editor: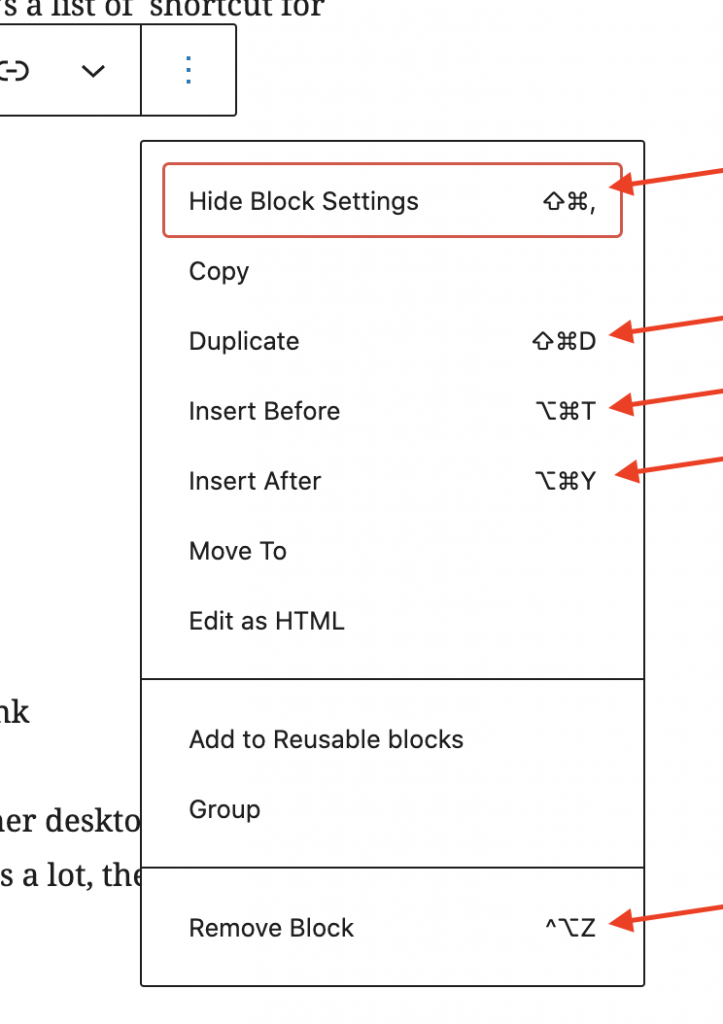 See WordPress' official keyboard shortcuts page for a full list.
Adding Blocks
You can add blocks of content to your post or page using any of these options:
Option 1: Use the Add Block button to select and add in blocks to the page or post. The button is located in the top toolbar, or next to your first blank paragraph block.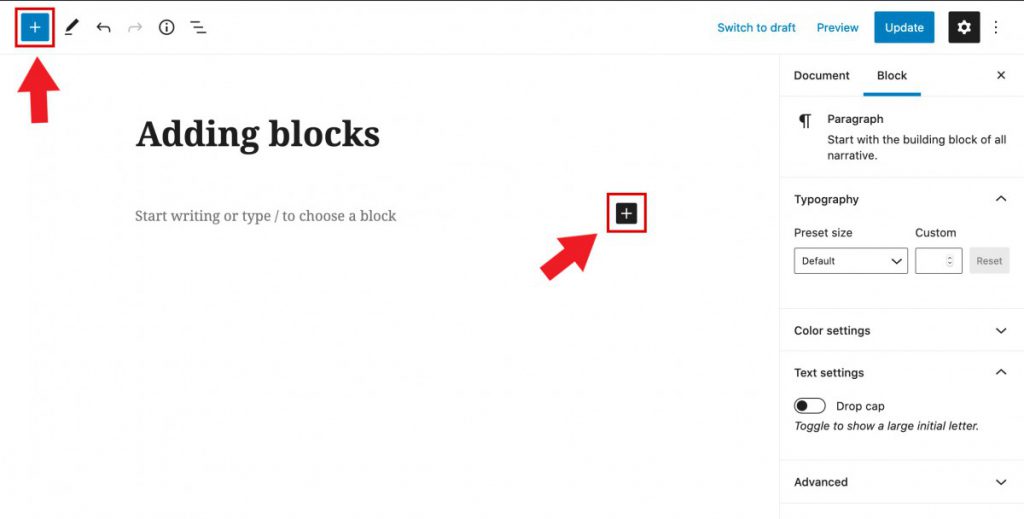 From the pop up menu, choose which type of block you would like to add to the page or post. You can search for blocks, select one of the defaults, or choose "Browse All" to see a full list: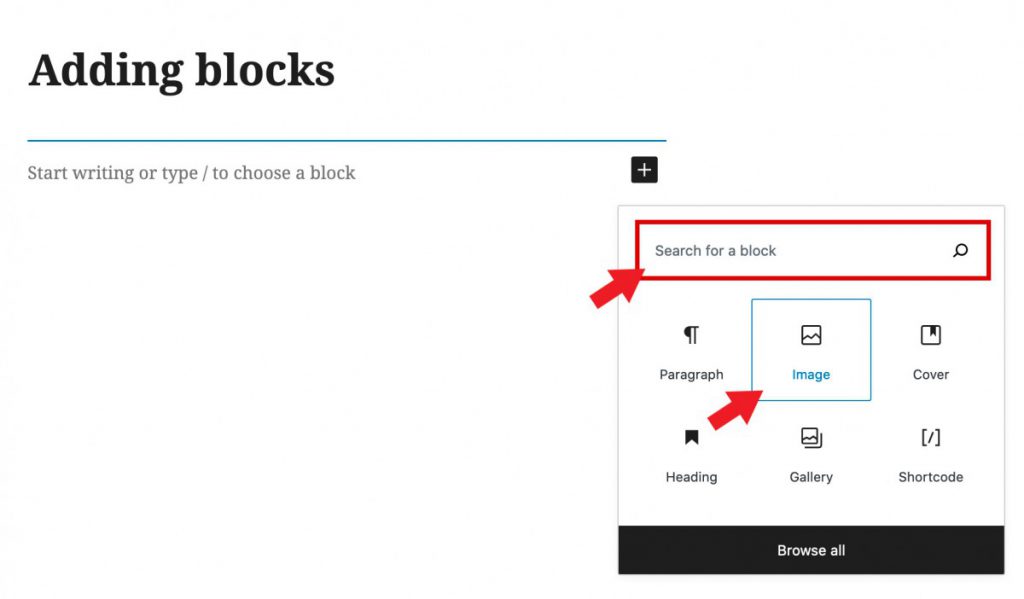 Option 2: If you know the name of the type of block you'd like to add, then you can add it by typing in the name with a slash in front of it, and then select it from the menu that appears.
For example, if you wanted to insert an Image block, you could start by typing /image into your paragraph block. A menu will appear with the Image block option selected. Then you can just hit your Return key to insert the block.
Block Navigation
The Block Navigation tool provides an outline of the blocks that are used in your post or page. This is great for helping you find a block in a long post, or if you are having a hard time selecting a block on screen. You can click items on this outline and the corresponding block will be automatically selected.
You can find it in the top left toolbar, it is the button with three horizontal lines. See screenshot below.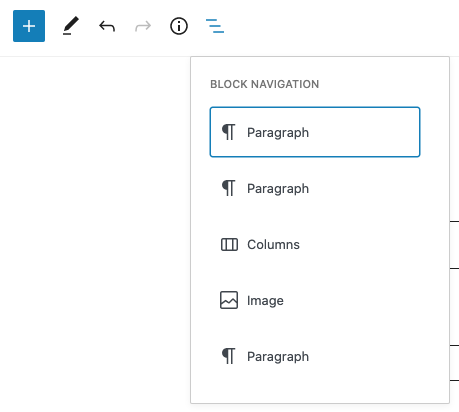 Block Toolbar
Each block, when selected, will display a toolbar either above the block, or at the top of your screen if you have Top toolbar turned on.
These toolbars display formatting options that vary from block to block. Here are some common options: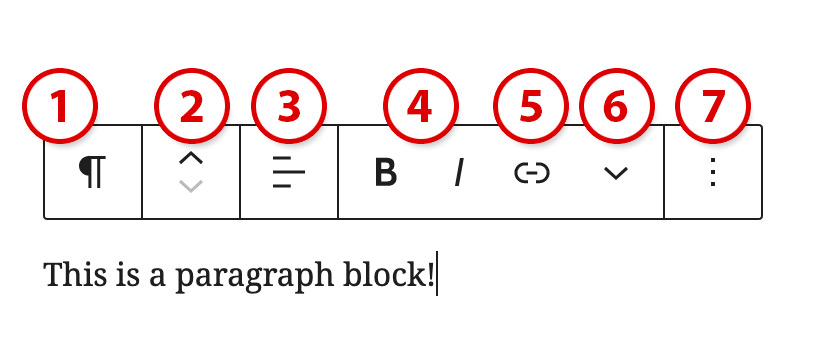 Change block type or style: a menu that allows you to transform the type or style of block to something similar. For example, converting a List block into a Paragraph block.
Move up/Move down: See Move Blocks below.
Change text alignment/Change alignment: Includes text alignment options if available (align left, center, or right). Some blocks also have wide and full width options. Learn more in our post about Cover blocks.
Text formatting options (Bold, Italic)
Link: Use to highlight text and insert links to other posts, pages, or external websites.
More rich text controls: Provides more tools depending on the block. For example, text blocks (paragraphs, lists) have options for inline images, strikethrough, subscript, superscript, etc.
More options: Various options for working with the block. Includes:

Hide block settings: Hides block settings on right side of screen.
Copy: Copies the block, can be pasted in place of cursor with Ctrl + V (Cmd + V on Mac).
Duplicate: See Duplicate Blocks below for more info.
Insert before/Insert after: Inserts a new paragraph block before or after the current block.
Move to: See Move Blocks below for more info.
Add to Reusable blocks: Allows you to set a block as reusable. This means you will be able to add copies of the block from the "Add block" menu.
Group/Ungroup: Use this option when multiple blocks are selected to group them together.
Remove block: Removes block from post or page.
Move Blocks
There are two ways to move existing blocks around a page:
Option 1: Use the block's Move up/Move down button arrows to re-arrange its place in a post or page. Optionally click and hold the button to drag and drop the block to where you want it on your post or page.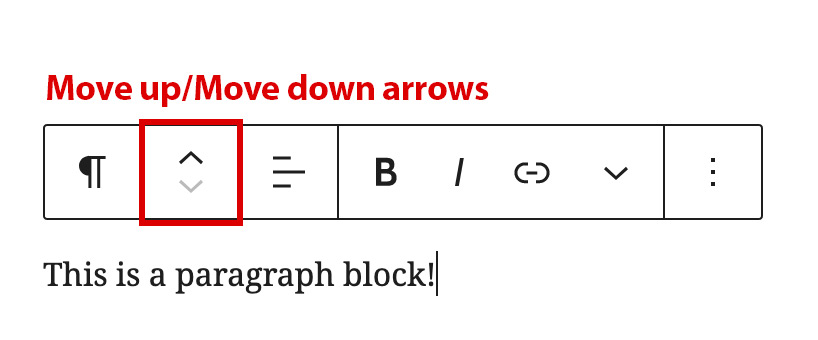 Option 2: Use the block's More options button, and select Move to from the menu. A thin blue line will appear. Use your keyboard arrows to move the line up or down on the page to where you would like it moved. Press the Return key and the block will be moved to where the blue line is.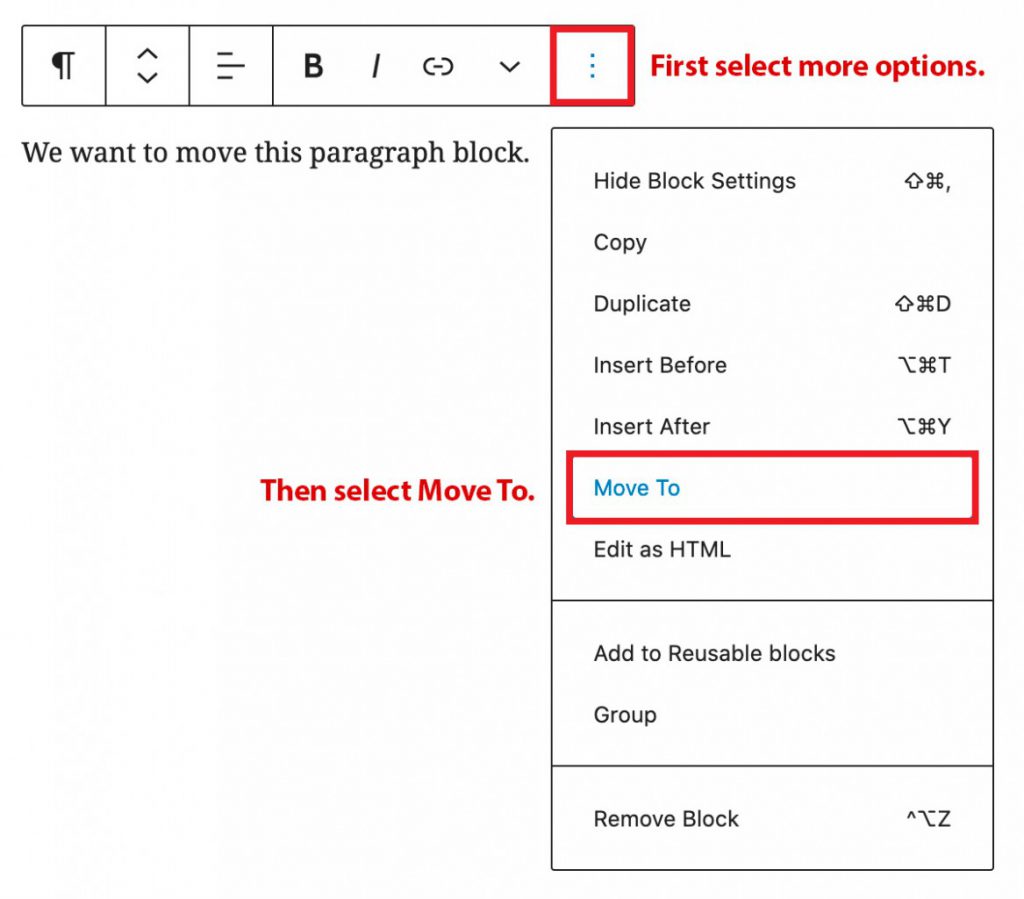 Duplicate Blocks
You might end up spending a lot of time getting the formatting for a block just right. For example, you may have a column block that contains multiple blocks text and image blocks.
If you want to re-use that format, you can save some time by duplicating the block.
To duplicate a block, go to the block's toolbar and click the More options button. From the menu click Duplicate. The duplicate block will be added to the page. From there you can edit and move the block to where you want.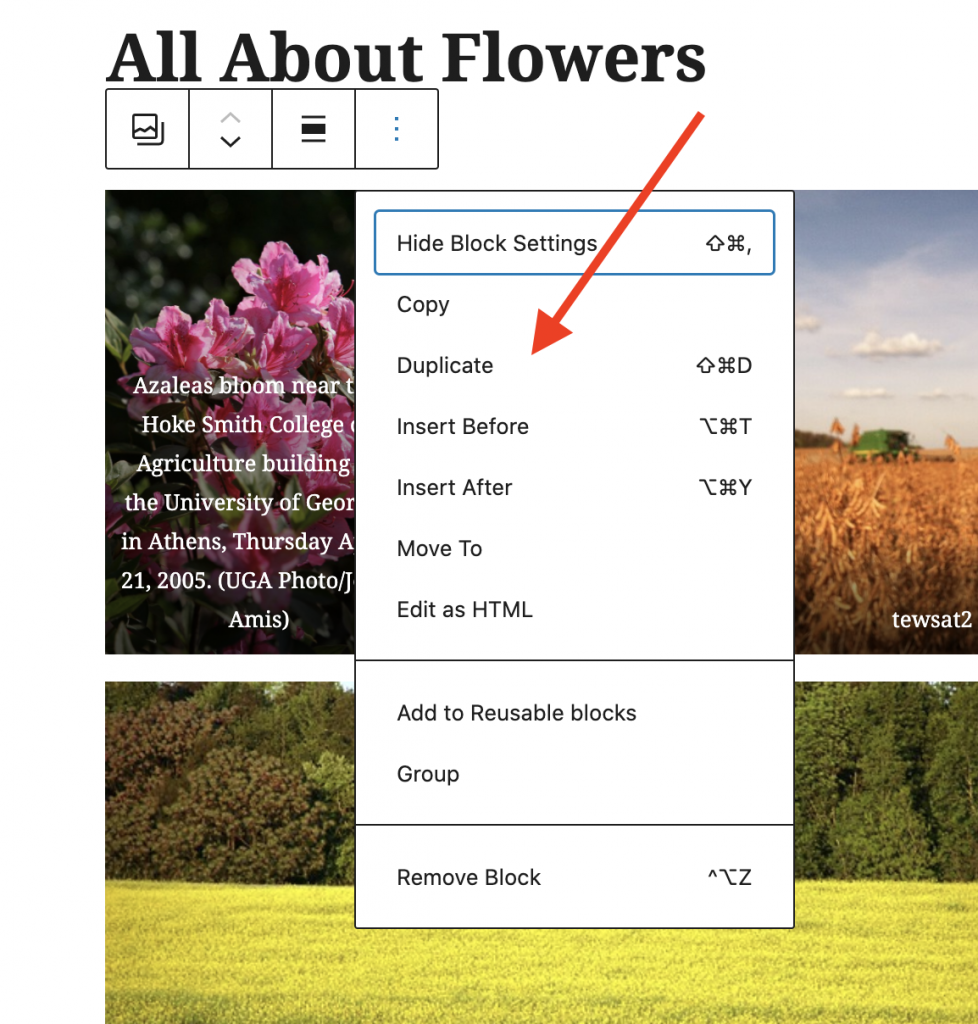 Block Patterns
The WordPress editor now provides Patterns, which are groups of blocks in different layout options that you can use on your posts and pages.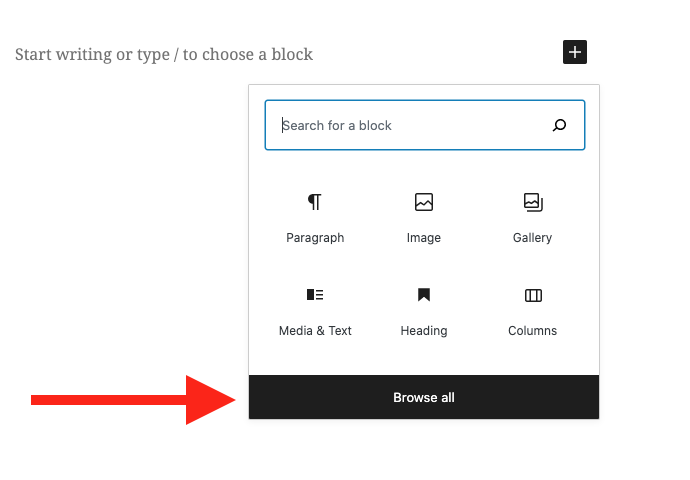 When you add new block, click Browse all. A panel on the left side will display all block options. Click the Patterns tab to show different options that you can use (you can scroll down to see more options).