Edit Your Site's Menu
Did you know that you can customize your site's menu? It's not that hard.
To start, click on "Customize" from the black Admin Bar that appears at the top of your site, or if you're viewing the Admin Panel go to "Appearance" > "Customize" on left sidebar.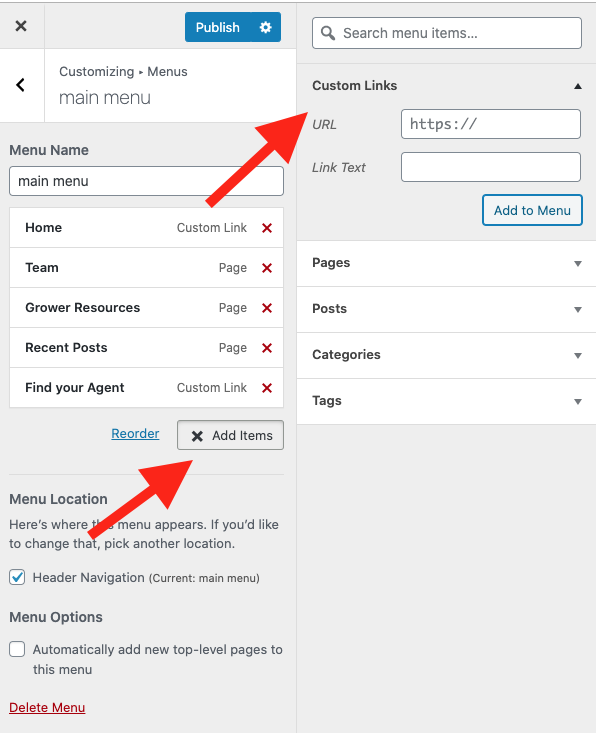 Click "Menus" on left sidebar.
Click the "Main Menu" option that is already created for you.
Click "Add Items" to add a link to your your Homepage or any other page. You can also re-order the list if needed.
Once you finish, don't forget to click "Publish" button on top/left
Tip: Keep in mind that the fewer items in your menu, the easier it is for users to understand your site and to navigate in it.
Customize Your Homepage
By default, WordPress sites display a default list of posts on the homepage, like you'd see on a classic site. But you can easily customize how the homepage of your site looks to visitors and create your own homepage content.
Your first step will actually be to create a new page. We suggest calling the new page "Home." Lay out the new page exactly like you want your home page to be laid out.
Once your page is finished enough, navigate to the "Customize" menu. You can either click on "Customize" from the Admin Bar or select "Appearance" > "Customize" from the the Admin Panel's left sidebar.
Next, find the "Homepage Settings" option in the "Customize" menu. Choose the "A static page" option to gain control over home page content.
Last, in the "Homepage" dropdown list, select he page you created earlier. This page will provide the content of your homepage.