As an administrator/owner of a WordPress site, you should familiarize yourself with the administrative tools for your WordPress site. You'll use these tools to control general settings for your WordPress site as well as adding and managing users.
It is important for you to read through this before you get started. Your CAES/Extension WordPress site has a few preset items that you may wish to change.
Appearance
Themes
Depending on your WordPress site topic and affiliation, you'll be set up with either a CAES or Extension theme. This determines the basic look-and-feel for your WordPress site and also helps brand your content as either CAES or Extension.
Widgets
Widgets are special kinds of content that you can place in different areas in your WordPress site.
Use the widget page to place items in the right sidebar of your WordPress site or in the footer area at the bottom of the page.
The widgets dashboard divides widgets into available, inactive, and active sections. Active widgets are divided into three areas: right sidebar, 1st footer (left column), 2nd footer (center column) and 3rd footer (right column). You can select and drag widgets from any section to another.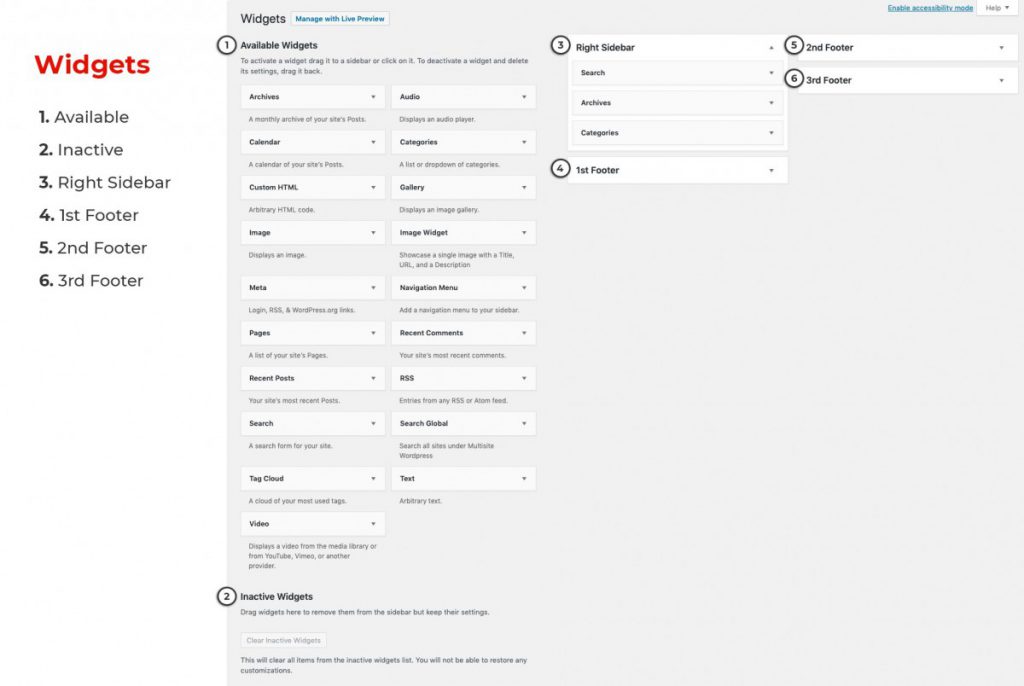 As a default, each WordPress site is pre-loaded with these sidebar widgets: search field, about, recent posts, archives, and categories. The meta widget for logging in is included in the footer area. Modify these as you like. We do suggest that you include a link to your office or department website from the sidebar area.
Read more about widgets on WordPress.com.
Menus
If you want to add a custom menu to your WordPress site, you can manage those settings here. By default, your WordPress site is not pre-loaded with a menu.
You might want to create a menu to link to a static "About" page in your WordPress site, a list of all your authors, or even to help focus on the posts from a particular category. It's up to you to determine what you'd like to include, and you can even add drop-down items if you want nested items.
The menu tool includes locations for menus, options for menus (like custom links, pages, and categories), and a menu structure for editing. Check out WordPress.com's documentation on editing menus.
Customize
Customize is a visual tool for you to edit how your WordPress site looks. It has a menu on the left side with options and a preview pane on the right.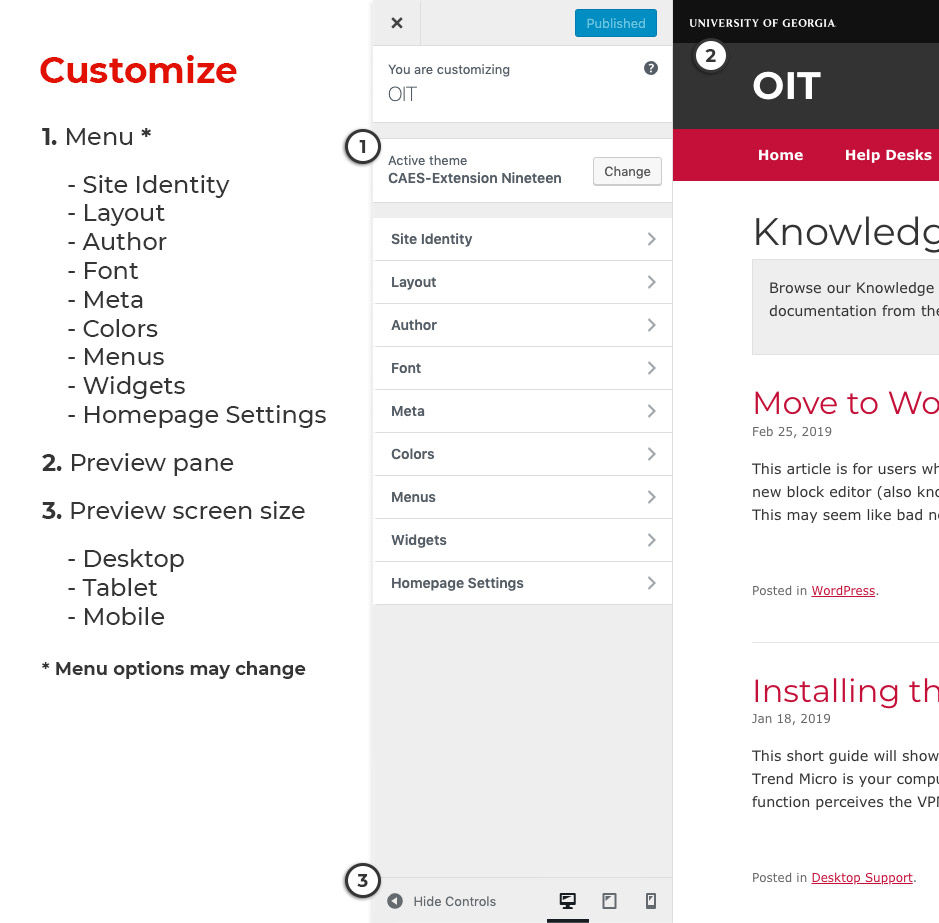 Use the customize tool to make live edits to:
Site Identity: set logo, site title, site tagline, and site icon
Layout: set header text alignment, logo and title placement, and view option (display a summary or full posts on archive, category, etc. pages)
Author: toggle the author name on/off for posts
Font: set header and title font families, header font size, and content font family
Meta
Colors: header text, background, menu, and footer color options
Menus
Widgets
Homepage Settings: toggle between what you want to show for your home page
Header
Your header is an image that shows up on all of the pages in your WordPress site. You can upload a new image under this option or turn it off completely. Do be sure to replace the default image with one of your own.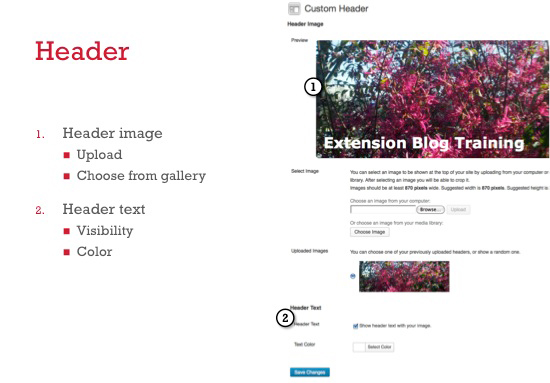 When you upload a new header image, WordPress provides a tool for you to crop it as you like.
You can also edit the color of the text on top of your header image. If your site title is included in your header image, you can turn this text off.
Users
Your WordPress site can support the following user roles. If you are the site owner, you are an administrator. Depending on how the administrator wants to grant access, other users may fall into any of these categories.
Administrator – Somebody who has access to all the administrative features
Editor – Somebody who can publish and manage posts and pages, as well as manage other users' posts, etc.
Author – Somebody who can publish and manage their own posts
Contributor – Somebody who can write and manage their posts but not publish them
Subscriber – Somebody who can only manage their profile
Depending on your access level, you may have the following options in your Users menu: All Users, Add New, and Your Profile / Edit User.
All Users
Administrators can access All Users to manage the roles for people that have been added as users. From the users screen, you can see username, name, e-mail address, role, and number of posts. You can quickly access a user's profile to edit account information.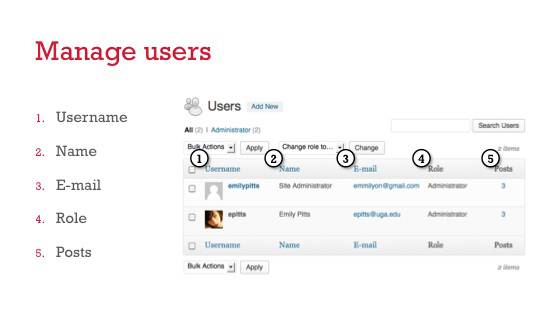 Add New
To give additional personnel access to a WordPress site, contact to make request.
Please include:
Site URL
New user's full name
New user's MyID username (or email address if user doesn't have MyID)
New user's role – Administrator, Editor, Author, or Contributor
The new user will receive an email when their account has been set up. If the account was set up with an email address rather than a MyID, the email will contain a temporary password and a link to activate their site account. New users will not appear in the list of users until the account has been activated.
Your Profile / Edit User
The "Your Profile" section allows you to enter information about yourself. This information can be used in a profile page about you on your WordPress site. At minimum, your username will appear with any posts that you publish. If you add your full name and a biography, this information will also show with your individual and archived posts.
As administrator/owner of the WordPress site you can determine how to manage this information for other users of your WordPress site. Administrators can edit passwords, user access levels and all other profile information for your site's users.
Tools
The tools section of your WordPress site is simple. You can import or export content or delete your site entirely.
If you would like to import content from a non-WordPress site/blog, contact the CAES Web Team at .
Settings
Use the settings section to control basic information about your WordPress site and how it behaves.
General
Set your site's title and tagline on this page. Be sure that the email address included here is the primary site owner's address. This is the address that will receive notifications for anything regarding updates or changes to your WordPress site.
Your time zone should be set to "New York."
Choose date format, time format, and week start as you see fit.
Writing
This allows you to choose default settings for your posts. It isn't necessary to change this, but if you'd like for your posts to default to a particular category or post format, do that here.
Reading
This determines settings for how many posts show on each site page, how many items to show in a syndication feed and whether or not your home page should be your posts.
This also includes a setting for "Search Engine Visibility." Initially, this setting is turned off so that you can develop your WordPress site without being found through search engines. When you are ready for search engines to start sending traffic to your WordPress site, uncheck this feature.
Discussion
Use this page to control the way commenters and other WordPress sites may interact with your site. You can determine if you'll allow comments on your WordPress site and how to moderate them.
Your WordPress site is preset to not allow people to post comments. You can turn this on when you are ready to moderate them.
If you DO choose to allow comments, it is recommended that you have this set to allow an administrator to ALWAYS approve a comment before it appears on your WordPress site. This is also preset for you.
Media
Edit how large you would like your default image sizes to be. The preset sizes should be sufficient.
Permalinks
Permalinks change the way the URL for your posts are built. Your WordPress site is preset to create links that include the month and name in every post.
As an administrator, you can change this if needed. However it is good to pick something and settle on it before your WordPress site begins to be indexed by search engines. Changing this after you've written a lot of pages could create broken links to your content.
Additional features
Siteimprove
Once your site goes live, we'll start collecting web statistics for your site using a product called SiteImprove. We'll send you web stats and a full Quality Assurance report each month.
You can find more information on Siteimprove posts.