Email newsletters and blog posts are great ways to self-publish information about your program and to reach your intended audiences. Depending on what you are writing — how much, how often, and to whom – you may find that writing only a newsletter, posting only to a blog, or some combination of the two will best fit your situation.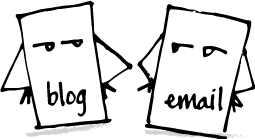 Think about how your audience likes to consume information and the kinds of content that you are writing (or plan to write). Which of the options below are a best fit for those people and your program? Which of these do you have the time and interest to implement and maintain?
Newsletter-only option

restrict content to a subscribed audience (not the entire world)
reach email subscribers only
content is hidden from a Google search
articles have no permanent home online, although archives can be established
great for communicating with a group of volunteers, a 4-H club, or another exclusive group of people
works well for short summaries of information
works well for focused, long-form content
not ideal for many long articles in a single newsletter

Blog-only option

best for information that is meant for the public to access
anyone can find blog articles in a web search
articles have permanent home on blog
works well for medium to long-form articles
not ideal for extremely short content
A third option is send regular email updates to blog subscribers by connecting your blog to an email newsletter. Consider the benefits below when you put the two together.
Blog/newsletter combo

publish once, on the blog
automatically send blog content directly to email subscribers
boost blog traffic from email newsletters
attract blog traffic from web searches
newsletter frequency can be daily, weekly or monthly
newsletter only sent if new blog content written
ideal for medium to long-form content with short summaries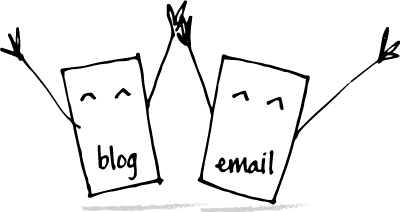 When the blog/newsletter combo is implemented, you can see visits to both the newsletter and the blog. These visitor patterns often show spikes of activity when the newsletter is sent, indicating that blogs and newsletters work well together to keep people engaged with your content.
For more information about sending email updates to blog subscribers, see:
For general information about email newsletters or blogging, see: