The Office of Information Technology provides help to CAES and UGA Extension in eight key areas. Select from the list below to see brief descriptions of OIT services in the CAES Service Catalog. Use your employee log-in to request assistance.
Account Creation and ID Management
Qualtrics, Zoom, Active Directory, New/Exiting Employee Setup, Crashplan Backup Services, Adobe Creative Cloud, Matlab, Kaltura
CAES and Extension Website Support
Login Problems, Content Manager Support, Web Application Support, New Websites, Advice and Consultation
Classrooms
Classroom Computer Troubleshooting, AV Support/Quote
Communications
Listserv Support, Email Support
Events and Meetings
Meeting and Conference Support
Hardware, Software and Security
Software/Hardware Installation/Troubleshooting, Printer Troubleshooting, Virus Removal
Network, Internet and Wireless Access
Network Troubleshooting/Request
Training
Zoom Tutorial, LinkedIn Learning
To submit a help request, you will be prompted to provide your UGA MyID and password through UGA's Central Authentication System. Once you have logged in, you will be able to enter requests, view your previously submitted requests, and communicate with OIT professionals about your requests.

Can't find your issue?
About the CAES Service Catalog
The CAES Service Catalog employs the University of Georgia's ticketing system, Team Dynamix, to manage help requests from our faculty and staff. Feel free to bookmark the link to our service catalog at servicedesk.caes.uga.edu.
All services supported by the Office of Information Technology will display the College of Agricultural and Environmental Sciences logo at the bottom of the page.
Use pages labeled in the navigation as Service Catalog / UGA College Specific Services / College of Agricultural & Environmental Sciences IT.
Sample services page in the CAES Service Catalog: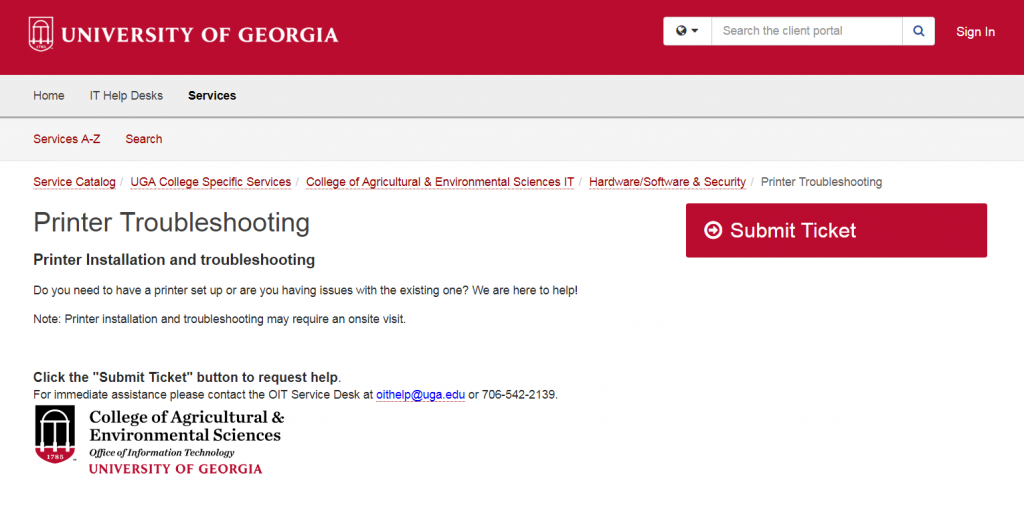 Landing page for the CAES Service Catalog: