Many of our upcoming in-person events have been canceled or postponed. In the coming weeks you may be rescheduling these events as online trainings and workshops.
But perhaps you have wondered whether it's appropriate to post a link to a Zoom meeting on a public calendar. And perhaps you've been scared to hold online meetings for fear that the whole world will come!
Here is some guidance to get you started with creating and promoting online events.
First, a quick note. Most people will call online meetings "webinars." Since Zoom has a separate product called Zoom Webinar that you have to pay extra for, we'll avoid that term to limit confusion.
Tip #1: The tools are available.
All county offices have access to Zoom Pro licenses. Each meeting can handle up to 300 users in a single meeting.
That's by far more than you'd normally want to host in a single meeting, but it means that you can have tremendous reach if you want to.
Check out our post that explains how to access your Zoom Pro account: Logging into Zoom with your MyID
Tip #2: Don't be afraid. You can do it.
You're probably thinking, "I've never done a webinar meeting before!" And if you're honest, "And, frankly, I don't want to."
Be encouraged. It's easier than you think, and you'll learn fast.
Take the LinkedIn Learning Zoom orientation course if you are new to hosting Zoom meetings. It's very good and very thorough!
Tip #3: Take the time to learn your settings.
Zoom has made recent changes to (mostly) make Zoombombing a thing of the past. But you must still understand the administrative controls available to you.
One very important control is the "Waiting Room" feature. Make sure you turn it on.

Central UGA IT has recommendations for what settings to use.
https://confluence.eits.uga.edu/display/HK/Recommended+Tips
Here's a link directly to your Zoom settings.
Tip #4: Keep entering your events on our Extension Calendar!
Is your office hosting an upcoming online event? Let our website visitors know by adding it to our online Extension Calendar.
If you would like to limit who can attend, it's OK to ask attendees to contact your office for the meeting URL instead of posting the link in the event description.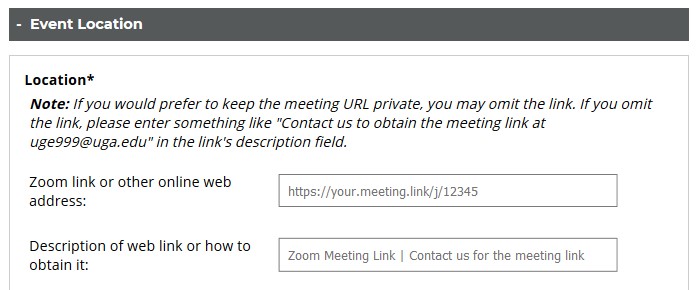 You can learn more about posting events by reading "How to Enter Events for Extension Calendars" blog post.
Tips #5 through #99: Let us know if you need help.
We want you to know that the Office of Information Technology is here to help. We have developed a series of posts to help you learn Zoom, and our support staff has many years of experience with the product.
If you're in a county office, contact your field support staff for help with Zoom. All other faculty and staff should email our Service Desk at .