Reminder: Use a shared email address (e.g. UGE, county, or departmental) for your Canva account rather than a personal email address. This helps protect your account and ensures continuity.
Is your account under your personal name and email?
If you have an existing account that does not yet match your UGE or Departmental email, you must update your Account Name and Login Email. Here's how:
Go to Canva Website and Login to your account
In the upper right hand corner, click on your account initials, then click on Account setting
Or click on the Gear Icon, found at the top of screen next to Create a design.
Update your Account Name (County/Department Name) and Email Address using the Edit button.
You may need to verify your password prior to updating the email.

Reminder: your account name should reflect your County Name or Department. If you are unsure what name to use, contact .
How do I update my Password?
If you are not viewing your Account Settings, see steps 1 & 2 above.
Click on Login & security on the left-hand menu bar
Click on Update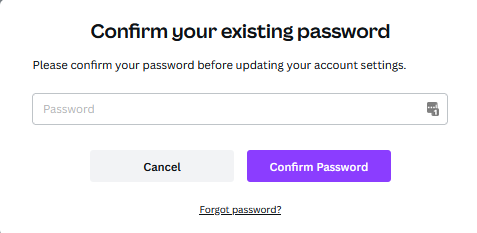 If you don't remember your password, click the Forget password? link to reset and create a new password