What are Canva templates?
Canva templates are branded content designs that can be modified by different people without changing the original file. They are a blueprint that anyone can use to create graphics or documents for your brand more easily. In the UGA Extension team, these templates are created by the Office of Marketing & Communication with Extension's needs in mind. Each template is designed for you to use, edit and personalize for your own needs.
Selecting a Canva template
After selecting the type of template you need – whether flyer, presentation, social media post, etc. – you have many options to pick from. While selecting the template you want based on the look of the design is tempting, first make sure you know which logo lockup you plan to use. There are many versions of the same template but with different logos because these logo locks only support the size of the original logo in the template. So since the "Extension & 4-H" logo is wider than the "Extension" logo, it won't fit correctly. That's why we made copies of the same template designs with as many logo lockups as we could.
"Extension" = Main Extension logo:
"Extension County" = Extension logo with County or District name:
"Extension & 4-H" = Main Extension logo + 4-H clover:

"Extension & 4-H County" = Extension Logo + 4-H Clover with County or District name:
Here's a visual example of the naming scheme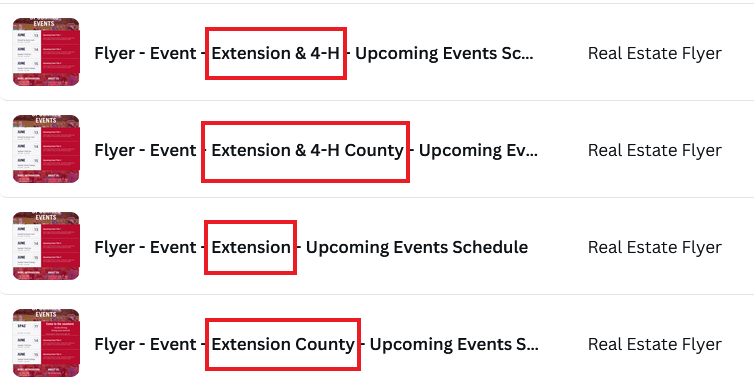 What do the logo locks look like?
This logo is fully locked, meaning the logo, location and size cannot be changed.

This logo is partially locked, meaning the content (logo) can be changed, but the location and size cannot.

What if I can't find the template design I need?
Whether you need a specific layout or have a logo lockup we haven't made templates for yet, you're in luck! The Office of Marketing and Communications makes more templates every month and takes requests. That means the templates currently available are not static; we are adding as many as we can each month. And while there are over 200 templates right now, we recognize there are some needs not currently met. If you fall into that category, feel free to fill out the template request form with any needs.
You can find links for the Template Request Form, Canva Premiere video and more in the intranet.
CAES Intranet – Extension Branding & Marketing – Canva (Sign-in Required)