Cleaning up assets by removing them from the Content Finder is a very good protocol to follow! As we've been reviewing websites, we're seeing Content Finder Assets areas growing by leaps and bounds with:
multiple versions of the same file (trying to get the 'perfect' image!)
personnel images for Faculty or Staff areas uploaded through AEM instead of being uploaded to the main CAES Personnel Database
old images or PDF files simply deleted from the webpage but not from the Asset area in the Content Finder
Only the PDF files currently linked or JPG images currently displayed on web pages should show in the Content Finder. So, if you have old PDF files you've deleted from your web pages or you've uploaded multiple versions of the same JPG image file, it's time to clean house.
We've already written a blog post for Deleting Image and Document Files and the information is also available online in both the AEM CAES Manual (pdf) manual and the UGA Extension County Manual (pdf).
But here's a different method to use when you have multiple files uploaded but want to delete those files that are unpublished. Unpublished files (images and documents) are files that have been uploaded to the Content Finder and
have never actually been used on a page, or
have been added to and then deleted from a page that was Activated.
If a file is not used on your website, there isn't much benefit to having it cluttering up the Content Finder!
Follow these steps:
Sign in to AEM. It's not necessary to navigate into your site, but you certainly can.
Choose the Assets tab from the rail.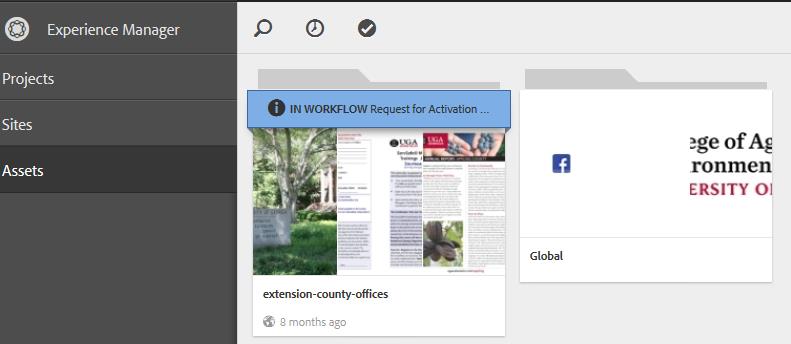 Click the Search icon in the top menu to open the Search sidebar.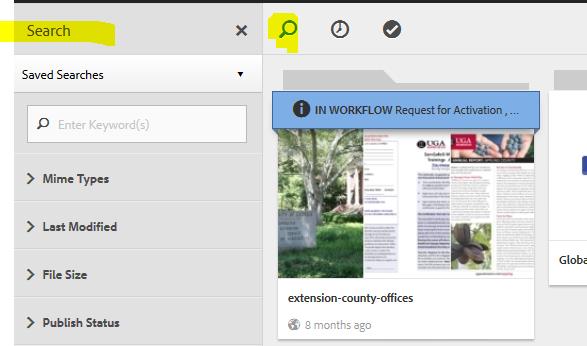 To find the files that have been uploaded to the Content Finder, but not published, click Publish Status, and check Unpublished.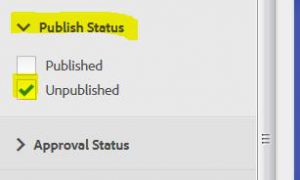 The screen will display the unpublished files you've uploaded AND also files in the shared folder (just ignore these!)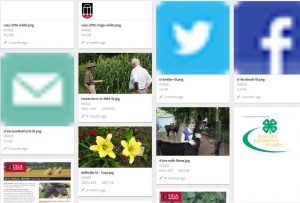 To delete a file, click the Enter Selection checkmark in the top menu.

To choose a file (or files), click on them.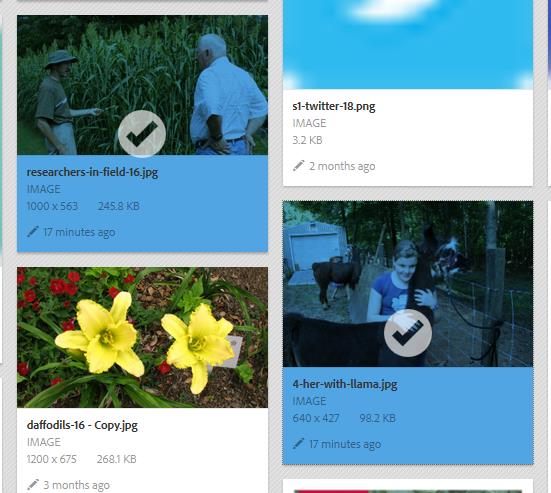 Note: If the trash can does NOT show up in the top menu, you don't have access to delete the file so click Exit Selection to choose again.

If the Delete icon (trash can) DOES show in the top menu, then these files can be deleted. Click Delete.

The Delete Asset warning shows. Click Delete.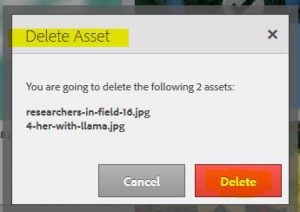 The files will be deleted and no longer display in your Content Finder.
Do make sure to click the Exit Selection button when done!